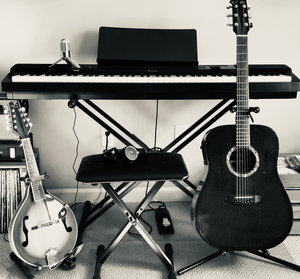 As I mentioned in part one of this blog post, my first cozy mystery has something I haven't seen in any other book of this genre, links in the text to original music written by me. I wrote five songs for the book to avoid paying royalties on someone else's music. In addition to the lyrics in the text, I wanted links to recordings of the songs, and I was lucky enough to have some incredibly talented musicians, whose voices embody my ideas of how the characters sound, to record demo tracks of the songs. I am really excited for you to hear the music.
I wrote a song called "I'm Here for You", in the voice of Mustang Loredo, one of my main character's childhood friends and the person who is by her side as she survives one of the most dangerous episodes in the book. He performs the song at a gathering to celebrate their survival. This song underwent the biggest transformation, so far, of all the songs I wrote for the book.
You can hear my original take on the song here. I sent it to the multitalented George Marinich. After his first recordings of the song, we smoothed out the lyrics, with the help of Cherie Waxman Chelst, a great bass player who has a way with a lyric. I have a tendency - rather well known, I'm afraid, to use too many words. We had to cut a few. The resulting lyric is, I think, better than the original. George did some fabulous orchestration and Cherie added some harmony. The current version is pretty cool.
I wrote a song called "What'll I Do?" for Sam's dad, Peter Cook. I asked my good friend, and the producer of my "With This Flame" CD, to give me his take on it. He also took my instructions to heart and did some modifications on the lyric and the melody. I was happy with the result. You can hear his version here. I originally thought this would be the opening song of the festival (and the book), but later decided to move it to a subsequent chapter, to make room for a new song called "Livin' The Dream".
The new song felt like a better fit for the opening event of the music festival that is the setting for my book. I gave this song to one of my favorite musical duos, Chasing June. The amazingly talented Judy Aron agreed to listen and came back with a demo that I love. Once the other half of Chasing June, Steve Coleman, has added his vocals to the track, and Judy does a few more tweaks with the instrumentation, I'm hoping to hear a final demo.
Stay tuned and I'll share it with you.