HANUKKAH IS HERE! I hope you'll stay and listen to my Hanukkah songs.
ATTENTION SYNAGOGUE LEADERS & MEMBERS
I'd like to invite you consider adding my music to any event on your synagogue calendar, or, adding a new event based around my music. 
My programs usually run 30-45 minutes, including songs and commentary, but can be adjusted to meet your needs. 
I always include some audience participation and I can make any performance kid friendly. I am happy to work with you to come up with a show that meets your needs. 
Please contact me, through the Contact Page on this site, to discuss my fee, which is always negotiable. Additional musicians can be added to any program, based on availability, at an additional cost.  
Hanukkah: 
This program could include songs from "With This Flame", traditional Hanukkah songs (Oh Hanukkah, Chanukah Chag Ya'Fe, Al Hanism, Ner Li, Hanerot Halalu, S'vivon), and classics, like Debbie Friedman's Light The Menorah and Peter, Paul & Mary's Light One Candle. 
Tu B'Shvat: 
This program could include my Tu B'Shevat songs: Grandpa's Tree (inspired by the story of Honi the Circle Maker), Every Tree is Singing (inspired by a teaching from Rav Kook), The Date Tree (a sing along), and A Song for Tu B'Shvat; songs from my "Sing With Me" CD that have earth friendly themes (My Tomato, One Green Thing) or Highlands (a song I have not yet recorded); folk songs (This Island Earth, This Land is Your Land, Big Yellow Taxi); and Eytz Chaim Hee and/or Eretz Zavat Chalav U'devash. 
Songs & Stories: 
This is a new program, but it has been well received.  I will be adding songs as I find, or write, them. Currently, this program includes my songs: Grandpa's Tree (see above), Just One Wish (a musical retelling of the story of the magic gourd), and Meshka the Kvetch (an abridged reading of Carol Chapman's story with sing along chorus).    
You can listen to the songs from "With This Flame" on this site's music player and the songs from "Sing With Me" on the Kid's page of this site. 
Check out my "Videos" page for videos of "Happy Hanukah Potatoes" and "Highlands". And check back for upcoming videos of "Spin the Dreidel" and "Judah Macabee Standing Tall".
I am happy to put you in touch with someone who has hired me for or attended one of my musical programs.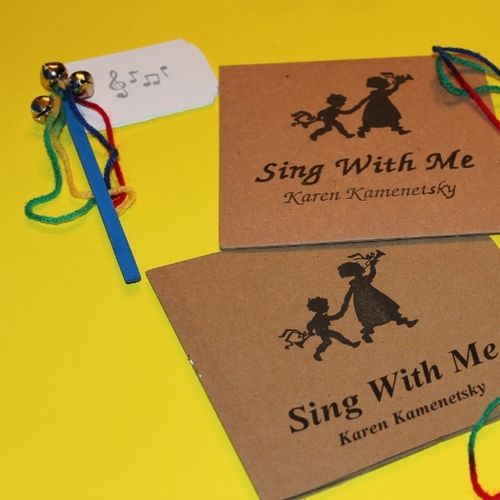 Sing With Me
A Family Album
f you'd like to hear  songs from my Family album, "Sing With Me", click HERE to go to the KIDS page (or click on "KIDS" in the menu at the top of the page). Scroll down to the song list and click on the arrow next to the song you want to hear. text
THE LATEST NEWS
It is tomato season, so feel free to sing My Tomato at every opportunity! Share it, cover it, listen to it, watch the videos!
Check out the video above to learn how to play "My Tomato" on the ukulele!
 
Click on the "info" link to the right of each song title on the song list at the bottom of the page to view background info on the song, a list of the players, and the song lyrics.
 
I'll be at the Washington Borough Farmer's Market again on July 30. Hope to see you there. Here's the link for details:
https://www.facebook.com/washingtonboroughfarmersmarket
Here are some songs for summer - enjoy!
0:00/3:43

0:00/2:49

0:00/4:24

0:00/4:09

0:00/2:56

0:00/4:18

0:00/3:37
To leave a private message visit the CONTACT page
Thanks So Much For Visiting.