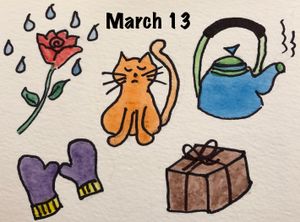 Here are a few more of my favorite things.
3 Brands making me Happy by Responding to Customer's Environmental Concerns 
The choices we make as consumers can and do affect the products we are offered. So, when a brand makes an effort with a product that is more environmentally responsible, even it is not perfect, I buy it. It's my way of saying, "Good job, guys, keep it up." They don't always promote these earth friendly products, but you don't have to look far to find them. Target carries the first two and many grocery stores stock the third. If yours doesn't, why not ask them to consider it.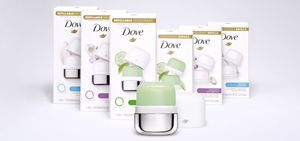 The web page for Dove Refillable Deodorant says all the right things about  reducing global waste and caring about the planet. I don't know whether those are true sentiments, or just great marketing, but I'm in. 
The metal case is elegant, feels good in your hand, and contains the same aluminum-free deodorant I've been using for years.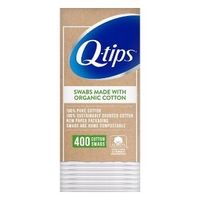 These Q-tips are made with 100% sustainably sourced, organic cotton and the packaging is all paper - no plastic wrapping - and home compostable or recyclable. I try to aim for re-usable  - but I tried the "reusable" cotton swab option. It does not work for me. This seems like the next-best option.

Reynolds sells a 100% Recycled Aluminum Foil that is made using 90% less energy than it takes to make new aluminum. The packaging and core are made from 100% recycled paper and printed with water based inks. It's made in the US and is pretty much identical to regular Reynolds Wrap. My only question is  - if you are going to use aluminum foil, why would you not use this?
3 Easy No-Recipe Veggie Meals I'm making this week
Winter Salad 
Arugula
Grated carrots 
Navel orange sections
Pepitas
Poppyseed dressing.
No-recipe instructions: mix everything together.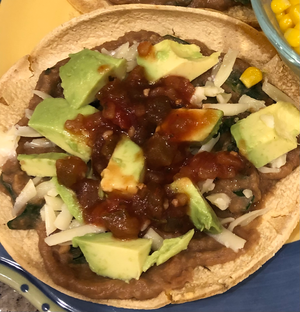 Winter Tostada
Corn tortillas
Vegetarian refried beans
Your favorite greens (I used Kohlrabi greens)
Avocado
Cheese (dairy or vegan)
Salsa.
No-recipe instructions: Heat tortilla, beans & greens, layer everything on & eat.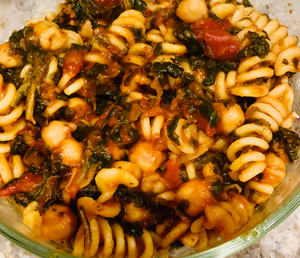 Spinach & Garbanzo Pasta 
Rotini pasta (cooked)
Your Favorite Sauce
1 Can Garbanzos (rinsed and drained)
Frozen Spinach
Parmesan (dairy or vegan) - optional
No-recipe instructions: Heat first four ingredients together, top with Parmesan.
3 of my Go-To Condiments - There may be a theme here having to do with my addiction to sugar...
I use them sparingly (mostly), but a little bit of these can elevate almost any dish.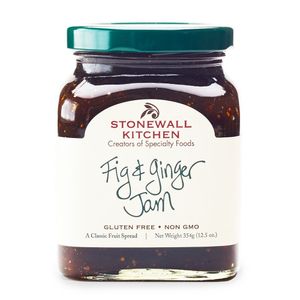 Stonewall Kitchen Fig & Ginger Jam. Such a great flavor combo. It's wonderful on an English Muffin or whole wheat toast, especially with a slice of really sharp cheddar. You can use it to make a vinaigrette with EVO and balsamic vinegar. This year, I used it as a filling for Hamantashen. (1 TBS: 35 cal, 7 gm sugar)

I know it LOVE this on...green salad, fruit salad, lentils with olives and pumpkin seeds, chick pea, cucumber, red pepper and tomato salad, broccoli...pretty much anything. (2 TBS: 150 cal, 6gm sugar)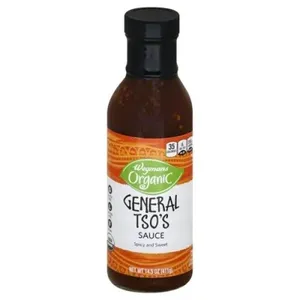 Wegmans Organic General Tso's Sauce. Great on any kind of stir fry, any kind of tofu. (2 TBS: 35 cal, 7gm sugar)
If you'd like to throw me some support, please follow me on Twitter (@karenkamenetsky) and Facebook (karenkamenetskymusic) and consider signing up for the mailing list on this site. 
#cozymystery #writingcommunity #amquerying