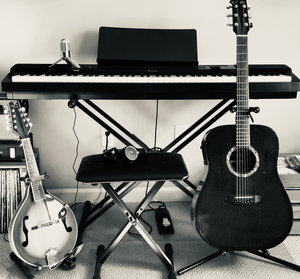 My first cozy mystery has something I haven't seen in any other book of this genre, links in the text to original music written by the author.
I described in a previous post how I came to write the songs for this book - mainly, I wanted music and I didn't want the hassle of permissions and royalties, so I wrote my own songs. There are five songs in the book. Most of the lyrics appear in the text. 
I wanted something more than just lyrics in the text, however. I had written the songs in the voices of four of the characters and I wanted recordings of the songs by artists who embodied my idea of what each of those characters sounded like.
The challenge was how to go about getting talented musicians to record demos for me when I had no idea whether I would be able to sell the book, or, if I did sell it, how the music would be presented in the final version. One thing I know about musicians, especially singer-songwriters, is that they rarely say no when offered an opportunity to participate in a musical endeavor. Musicians want to make music. So, I decided I would just ask, and see what happened.
I told each musician I asked to be a part of this project the same thing. I can't offer any compensation at this time. I will send you a cell phone recording of the song I'd like you to sing. You have complete freedom to change anything about the song - lyrics, tempo, progression, chords. If I agree that it improves the song, we'll go with it. If the changes are substantial, we will talk about co-writing credit.
I knew immediately that my top choice for "You Get Me Going", the song I wrote for Sam Cook, was the immensely talented Chelsea Carlson. Chelsea's voice is powerful and lovely... strong, confident and captivating -  I thought it would be perfect for Sam. Chelsea and I moved in the same musical circles for several years, so I felt comfortable contacting her. She sent me several recordings with small changes from my original - and harmony parts that fit the sound I imagined for Sam's Trio, Rambling Rose. I was thrilled with all of them. You can hear the one I like best here.
Finding the right voice for Gavriel Biton's song, "That You Are Mine" was a bit harder. I spent hours watching YouTube videos and listening to male voices I thought might be a good match. I originally wanted an Israeli voice, but I could not find an artist who had the sound I wanted. A wonderful artist named Mike Herz generously recorded a demo of the song for me, thought we have never met. I love his voice.I love his music. But, the recording didn't fit the sound I had in my mind for Gavriel.
I spent more hours scouring my on-line contacts for the right sound. I approached Alex Radus. I had heard him play but he did not know me. Never the less, he agreed to give the song a try. He also made only minor changes and even reproduced the finger pick style I used on my rough cell phone recording of the song. I love his version and it ended up being closer to my vision for Gavriel. You can hear it here.
I am always amazed at the generosity of musicians. I sincerely hope I can sell my vision for this book  - mystery and music - and that these wonderful interpretations of my songs will be a part of it.
Stop back next week to hear about the other musicians who've recorded songs for the book.
Meanwhile - please consider following me on Twitter (@karenkamenetsky) and Facebook (KarenKamenetskyMusic) or signing up for my mailing list.